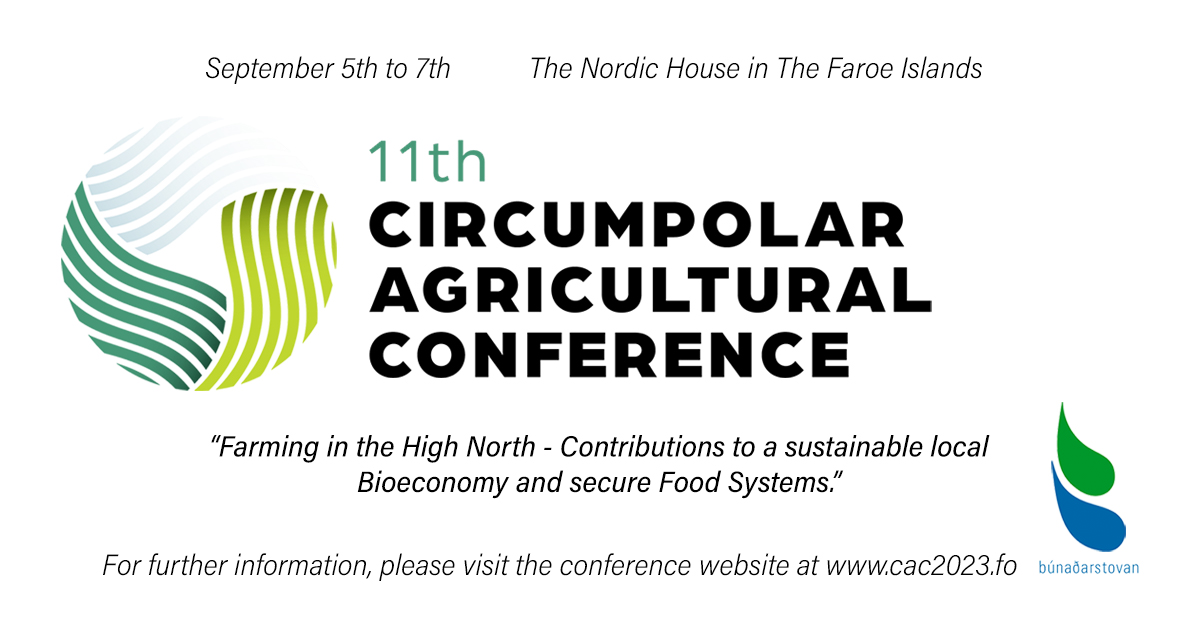 11TH CIRCUMPOLAR AGRICULTURAL CONFERENCE
Freistin at boða frá luttøku er 4. september á http://www.cac2023.fo/
Høvuðsevnið á ráðstevnuni 5. til 7. september er: 'Farming in the High North – Contributions to a sustainable local Bioeconomy and secure Food Systems'
Ráðstevnan verður skipað við tveimum døgum við fyrilestrum í Norðurlanda-húsinum, týsdagin og mikudagin 5. og 6. september, hósdagin 7. september verður skipað fyri útferð. Ein serligur ráðstevnudøgurði er mikukvøldið 6. september, meldað verður til døgurðan, samstundis sum meldað verður til ráðstevnuna. Málið á ráðstevnuni er enskt. Her eru nøkur av teimum, sum koma at hava fyrilestur og heiti á teirra fyrilestrum:
- Mr. Høgni Hoydal, Deputy Prime Minister and Minister of Foreign affairs, Industry and Trade; The Government of the Faroe Islands."Opening speech for The 11th Circumpolar Agricultural Conference".
- Mr. Åsmund Asdal, Svalbard Gllobar Seed Vault Coordinator, The Nordic Genetic Resource Center (NordGen)."The importance of Biodiversity and genetic resources for a sustainable agriculture in the Circumpolar area"
- Mr. Kenneth H. O. Høegh, Head of Representation, The Representation of Greenland in the United States and Canada."Important Aspects of future Agriculture and Food production in the Arctic Region. Can Circumpolar Agricultural Association contribute to the activities organized within the Arctic Council ?"
- Mr. Sigurður Eyþórsson, Special Advisor, Department of Agriculture, Ministry of Food, Agriculture and Fisheries, Iceland."Farming in Iceland; the approach towards a sustainable local Bioeconomy and secure Food Systems as laid down in the national Food Supply Goals aimed for 2040."
- Dr. Jóhannes Sveinbjørnsson, Associate Professor, Agricultural University of Iceland."Food self-sufficiency and Food security in Iceland – Perspectives on Arctic and Global realities and challenges."
- Mr. Sölve Högman, Head of section, Department of Trade and Industry, Government of Åland Islands."The noticeable high level of Food self-sufficiency in Åland Islands; and the societal framework behind this piece of good fortune."
- Mr. Bernt Skarstad, Teråk, Norway. District Chair of the farmers union "Norsk Bonde og Småbrukerlag" in County of Nordland, North Norway."Norwegian policy on agriculture; incentives and obstacles regarding instruments to stimulate sustainable utilization of local resources for agro-food production in rural North Norway."
- Mr. Jens Ivan í Gerðinum, Agricultural Counsellor, Búnaðarstovan – Agricultural Agency, Faroe Islands."Agricultural Food Production in the Faroe Islands and prospects for future food production."
- Ms. Sofie Andersson, Project Coordinator, Nordic Agri Research, Swedish University of Agricultural Sciences."The New Nordic Food programmes, their ripple effects since 2005 on the ever growing appreciation for local food and cuisine in the region and the future of New Nordic Food".
Skrá við øllum fyrilestrunum og útferðini sæst her.
Skársetingin til ráðstevnuna fer fram gjøgnum GreenGate a hesari heimasíðuni: http://www.cac2023.fo/
« Aftur